Ghanaian musician Terry Boamah a.k.a Dada Hafco is set to release a classic highlife piece titled Friends featuring talented Tv3's Mentor VI winner Yaw Stone.The song will be premiered on 'AM Pluzz', Ghana's entertainment morning show on Pluzz 89.9 FM on 29th April, 2016.Dada Hafco says he's releasing the song to celebrate his 10 years anniversary in the music industry and also his birthday which falls on May 1.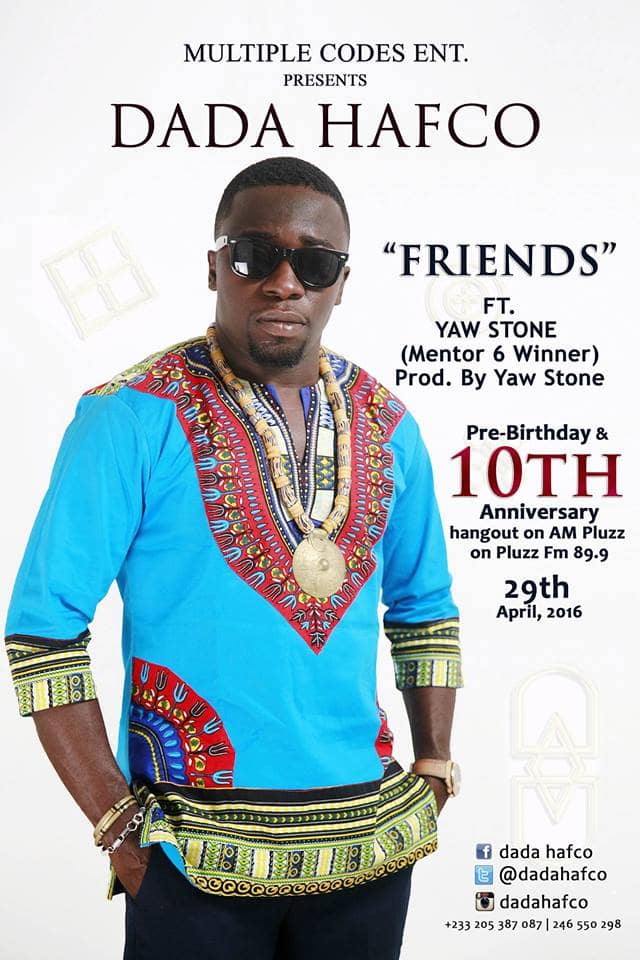 Dada Hafco is a former member of the now defunct group Mframa. He together with a friend formed the group Mframa and released their first album in 2006 which had the hit song Fiiligadoochi.
They went on to have the hit song Disco on their second album, and subsequent singles Ghana Lady which also gave birth to the movie soundtrack Agya Koo Gbengbentus which won the best soundtrack 2011 at the Ghana Movie Awards.
The Musuo hit maker says, on the occasion of your ten (10) year anniversary and birthday, you could never do it better than to give the people and the fans a classic that will leave an indelible mark on their minds.
The song Friends talks about people doing away from bad friends. In the song, a man advises his wife not to harbor friends with bad influence but rather listen to the man who is undoubtedly the head of the house. The artiste further added that the song can be generalized to caution people to avoid bad friends.
Dada Hafco has evolved into a Highlife musician because of family influence and also want to do songs that can still live with the masses for years.
"These days our songs lack contents because everybody want to do something for the people to dance, but I believe if we could tackle some of our social problems, it boils down to putting good contents in our music," he explained.
Still on the build up to the New Era album, Dada Hafco says the train will stop later this year when he drops the album which has taken him over two years to put together.
Listen to 'Musuo' by Dada Hafco ft Okyeame Kwame produced by DDT