The third edition of the Annual Ghana Dance Festival came to a grand close last Saturday, 30th September 2017, at the Accra Mall Food Court with an exciting dance competition dubbed, "Battle In The Ring."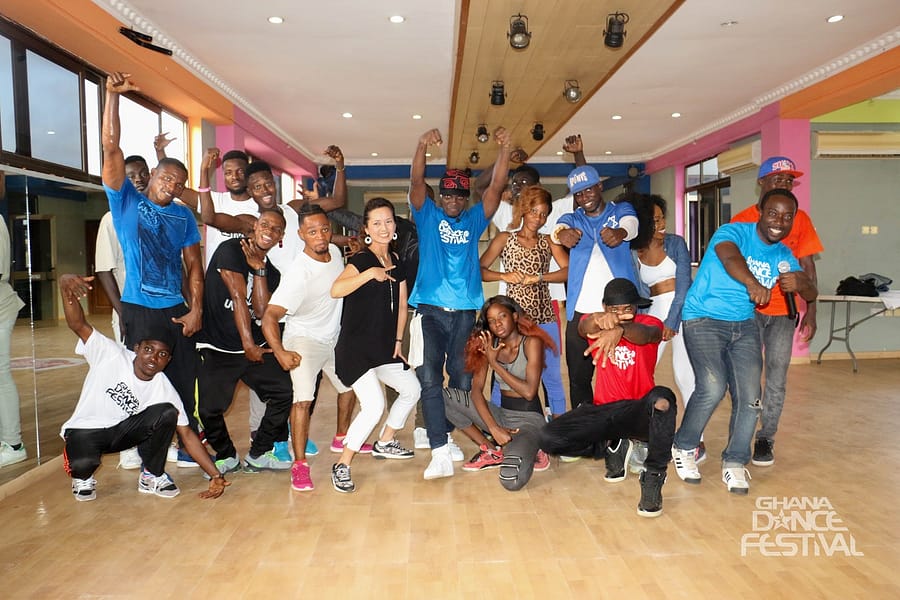 Graciously hosted by Accra Mall, and powered by DanceteraTV, the Food Court sported a standard boxing ring, characterised by powerful lighting and artificial smoke to give the right ambience for the event. Within this ring battled 10 dance crews of 2 members each, with each crew hoping to be crowned battle champions and be awarded the cash price of GHc 2,000. The competing crews had to go through three stages of battling in different dance genres against each other, chosen by balloting. Judges Shon Mambo, Danie Street (UK) and Obaa Yaa, eliminated the worst teams at each stage of the battle, giving way to the better team to advance onto the next stage. 3 dance crews made it to the finals- Dynamic Duo, Boogie Bust, and Star Boys- and where contestants were tasked to create their own dance routine with the Yomi Yoghurt sound track. In the end, "Dynamic Duo" dance crew was adjudged the battle champions for the night, winning GHS 2,000, cash and some products from Yomi Yoghurt.
On the whole, the 2017 edition of the Annual Ghana Dance Festival will go down as the best edition yet. It started with a grand opening at the Osu Oxford Street Mall, and thereafter four weeks of exciting dance-themed events to represent the different dance genres. Ghana Dance Festival 2017 (GDF '17) exhibited the 'Annual Apex Ballroom Soiree,' 'The Afro-Latin Congress,' 'The Lords of Street Dance Concert,' 'Praise Dance Concert,' 'Alkebulan's Awakening- A National Dance Company Production,' 'Aerobics Marathon & Games,' 'Heritage Night' and 'Battle In The Ring Competition.' These events were seasoned with dance workshops and parties. Apart from Ghana, a total of 11 countries were represented including Nigeria, Togo, Benin, Gabon, South Africa, Cuba, Haiti, Slovakia, Romania, US and UK, giving the festival an international character, and colourful in diversity.
Next year promises to be even richer and grand as preliminary preparations have already begun for the Ghana Dance Festival 2018. The turnout for GDF '17 also predicts a growing interest for the affairs of the dance community, dancers and dance in general, and thus, a higher participation next year. Dancers, in all the individual genres, as well contributed their quota in making this year's celebration a successful one, also forecasting a wholly professional, more interesting, and outstanding Ghana Dance Festival for 2018. Special appreciation goes to the sponsors of Ghana Dance Festival, Yomi Yoghurt, Malta Guinness, and The Black Ride. Also Aviation Social Centre, Accra Mall, and Achimota Mall for hosting our events. Media partners TV7, CinePlus, ETV, YFM, and Happy FM. And Finally to the director of the Commission on Culture and Creative Arts, Socrates Safo and Dzifa Gomashie, former Deputy Minister for Tourism Creative Arts and Culture.
For all updates on the Ghana Dance Festival, and dance in general, follow DanceteraTV on Instagram, Facebook or Twitter, or 'Ghana Dance Festival' on Facebook and @GhanaDanceFest on IG and Twitter. Alternatively, reach us via email: ghanadancefest@gmail.com, danceteratv@gmail.com or call 0244611808/ 0242948455