The 25th of June every year has been earmarked as World Vitiligo Day. It is a day set aside to raise awareness about Vitiligo, a frequent and often disfiguring skin medical condition which has a considerable negative psychological and social impact on patients, due to the many misconceptions among the public.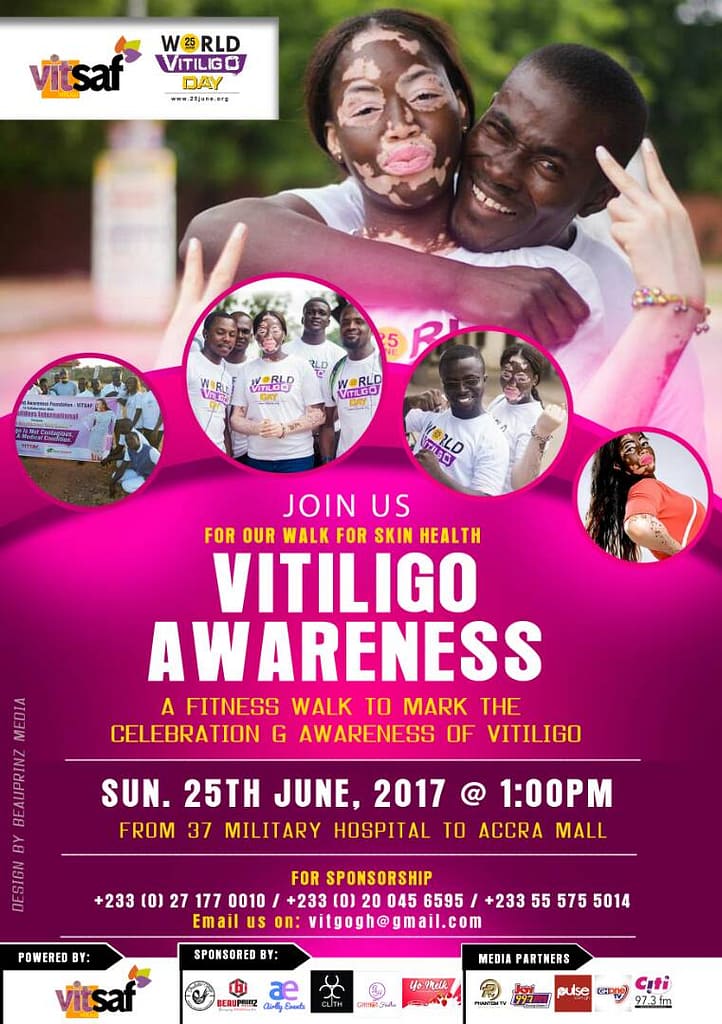 The first World Vitiligo Day was held on June 25 2011 and has since become an annual, global event and as part of the 2017 celebration in Ghana, VitSaf Foundation and Airlly Eventz are organizing an Awareness Walk in the Volta regional capital, Ho.
Scheduled for Saturday, 24th June 2017, ahead of the global celebration on Sunday, 25th June 2017, the event will also feature Educational campaigns on some Radio stations in the municipality.
Notable personalities coming to support the campaign, include, Enam Heikeens, National Vitiligo Ambassador, Actor John Dumelo and the Volta Regional Minister, Dr. Archibald Letsa.
The occasion will also be used to outdoor the Volta Regional Vitiligo Ambassador.
Note that, Vitiligo is not contagious. It is not life-threatening but, vitiligo can be life-altering because of stigma associated with it. Some people develop low self-esteem, they may no longer want to hang out with friends or develop serious depression.
Also check: Davi Is Bae by Fiamor
Everyone is kindly invited to come and support a worthy cause, which will give hope to our brothers and sisters living with vitiligo.
For more information and enquiries contact us on +233244059604 or +233506430325 .
also follow us on social media
Facebook: Airlly Eventz
Instagram: airlly_eventz
Twitter: @iamairlly
Email: airllyeventz@gmail.com
This Event is powered by VitSaf Foundation and supported by Cottage Shea Butter Airlly Eventz, BeauPrinz Media, Phantom Multimedia, Citi Fm, Multimedia Group, EIB network, Etv Ghana, Metro Tv, GH hot fashion, Yomelk natural Yoghurt, BeenieWords, JONILAR, Afe Lotto, VoltaConnect , mykuulfmonline and Mav TV
Watch a documentary of a beautiful Ghanaian lady living with the condition.