It is the second edition of the prestigious GMAA; the annual awards that honors the achievements in Africa Television, digital media and film industry. An event that brings actors, producers and professionals in the African film industry under one roof.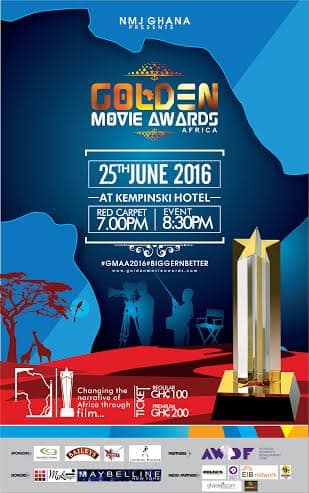 On the 25th of June 2016, all the key film makers will be gathered under one roof at the prestigious 5 star Kempinski Hotel at 8pm sharp.
Red carpet would commence from 6.30 pm to 8pm which will be broadcasted live on national television.
To sphere head the event would be the ambassador of the GMAA, Nadia Buari.
You cannot afford to miss out on this night of glitz and glamour. Ghana would witness the best production ever.
Tickets are going out for GHȻ 100 for standard and GHȻ 200 VIP.
Visit www.gokdenmovieawards.com to book your tickets or call 0265094463.
DRESS CODE
GENTS: Suit or Tuxedo, white shirt with either flying tie/bow tie or African Print of any kind.
LADIES: An evening Gown with a touch of gold
GMAA: Changing the negative narrative of Africans through film.
Source:Eugene Nyavor