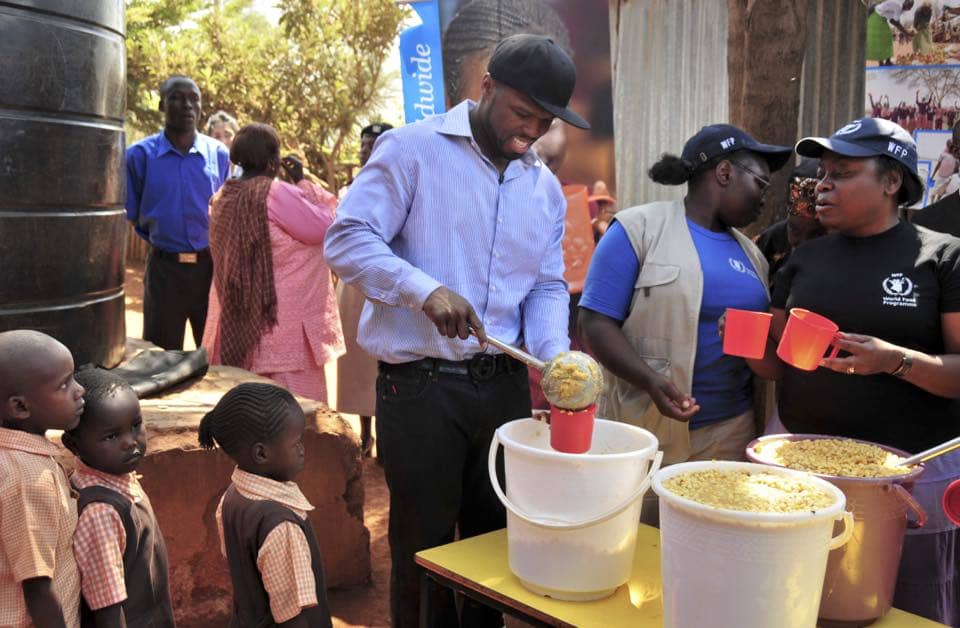 Pictures of American Hip-hop artiste and leader of G-Unit 50 Cent surfaced on Facebook Tuesday 23rd February, 2016 of him feeding school children in Kenya. There has been a lot of mixed reactions from people and fans of the musician who think the images are saying anything good about the situation in Africa and should be pulled down. Others on the other hand think the musician should be applauded for embarking on such project.
Here are some comments on a post by '50 Cent Daily'.
"I am a Kenyan and 50 was in Kenya the place is the biggest slam in the world known as kibera the food he is saving is a C.D.F program issued by the government of Kenya so 50 did nothing over there man" –  Lion Nganga Ernest 
"Thank you 50 cent. Born and raised in African, lived in Refugee camp for 8 years. Once upon a time, I was one of those Hungry kids. May God bless you and give you all that you desire of him. Be bless". – Sando Ernst 
"Are u ignorant? Hungry kid's I'm Africa?
First of all, don't generalize a continent. What country are you specifically?
Second, why hungry kids? You can just feed the kids?
Aren't there hungry kids in NYC or The whole USA?
Please speak like you are a well-informed individual rather than an ignorant one as some perceive you to be" – Ola Akinruli
"Y'all should be happy about what a young man like 50cent is doing coz you hardly or never see any musicians, rappers, etc. taking upon themselves to go to Africa and do what he's doing coz they all think Africa is so less fortunate that they can't do anything for themselves.. Y'all must tell him thank you for that" – Libdream Michael Johnson